(VOVworld) – These days, Co To Island in Quang Ninh province is in the middle of jellyfish season. Some people call jellyfish "white gold" because it is a major source of income for thousands of fishermen and people who work in seafood processing plants.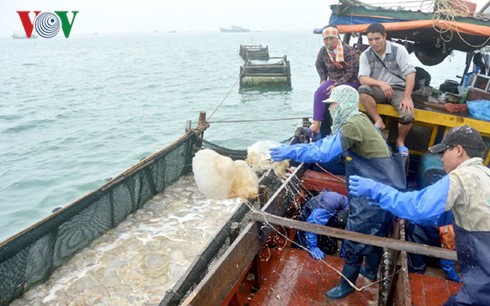 Catching jellyfish is simple but requires strong health. When the sea is calm, each boat can get up to 1,000 jellyfish.
Around midnight, Dinh Van Thuy heads out to sea. Like hundreds of other fishing boats on Co To Island at this time of year, his trawler is simply equipped: fishing nets, 1000-Watt light bulbs, and spoon-nets. From January to April jellyfish of different colors are adrift on the Co To sea surface.
Thuy told us: "Our work is simple we fish out drifting jellyfish using rackets instead of hooking them. If you are strong, you can get more. When the sun rises, we go back to shore to sell them. It depends on the weather. Some days, we harvest thousands of jellyfish. On other days, we get nothing."
In the past, jellyfish used to bother fishermen. Now they are considered 'white gold' with high nutritional and export value. In recent decades, Co To, the jellyfish center of Vietnam, attracts thousands of fishermen and workers from Nam Dinh, Thai Binh, and Thanh Hoa province when jellyfish season arrives.
Fishing out jellyfish is hard but profitable work. Fishermen can earn up to 1.8 USD from a kilo of jellyfish.
But jellyfish need to be processed. Nguyen Viet Ngoi, the owner of a processing workshop, showed us in detail each step: "The sorted jellyfish heads and legs are cleaned in centrifugal tanks for 10 to 12 hours and then moved to different tanks with salt concentration rising from 20 to 25%. It takes from a few days to a whole month of soaking to turn out hard white jellyfish parts with no water inside."
A 9-12 kilo barrel of finished product is worth about 50 USD but a barrel of red jellyfish can be worth up to 440 USD. Last year Ngoi exported more than 20,000 barrels and made a profit of 44,000 USD. Each processing workshop has 50 workers who work in shifts round the clock and earn a good income.
Mai Thi Thao, a local worker, said: "Though it's tiring work, it's OK because it pays a good income. Sometimes I can earn 440 USD a month. Over the past three months, our monthly income has reached nearly 1,800 USD."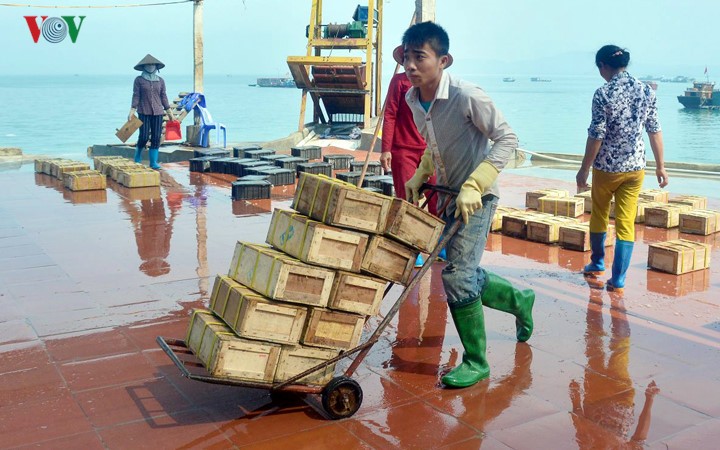 During the peak jellyfish season, each worker can earn 440 USD a month.
When the season is over, the locals turn to other fishing or tourism. Jellyfish fishing and processing has made some Co To islanders rich enough to build big restaurants and hotels.
Dao Van Vu, Deputy Chairman of the Co To People's Committee, said: "We require jellyfish processing facilities to be far from residential and tourist areas to protect beaches, seaside resorts, and residential compounds. To be licensed, owners of processing plants commit to building rubbish collection and waste treatment systems to protect the environment. All 28 facilities in the district are committed to environmental protection."
Vu said Co To has worked with the Vietnam Fisheries Trade Union to support fishermen and processing facilities have coordinated with each other to stabilize the price of jellyfish.
"Co To is completing the second phase of a Tonkin Gulf Logistic Service Center. We are calling for investment in seafood processing, especially high-tech processing of locally consumable products, and encouraging the production of instant jellyfish packages for tourists and for export," Vu added.
In the long term, Co To authorities plan to make jellyfish a tourist specialty that visitors will buy.